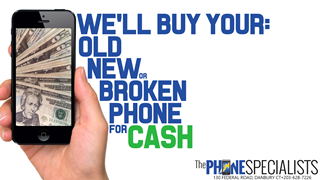 I just wanted to say thank you for your help last evening with my phone. I came in with a phone that was not working, however, I was able to purchase a refurbished phone that was the same make and model as my own.
Here is what you provided me yesterday:
~ personalized service
~ support (practical and emotional)
~ trust (a rare thing in the customer service arena)
~ rapid turn-around
~ clear communication
~ options
~ honesty and candor
~ building relationship - for longterm customer loyalty
~ a fun time (maybe this is the most important point!)
~ more than just a phone...
My thoughts last night about your special offering (besides phones) came in this phrase: Personalized customer service, providing practical solutions for customers' needs at affordable prices.
We look to provide our customer's with solutions and help solve their problems.